Our work with non-profit organizations is a partnership that builds organizational capacity, intentionally, through an integrated and planned approach. We believe in not only building an organization, but in building the leaders within the organization for sustainability and innovation in the non-profit world. We know the risks you face, understand the culture, and it is our mission to help non-profits thrive.
Our team is comprised of training and technical assistance experts who want to build non-profit capacity and understand the challenges of operations. It is these unique skill sets along with our mission to help non-profits succeed that make our development trainings so successful. At Orgboosters we strive for our non-profit partners to Grow, Learn and Connect with their board and staff members and with the community that they serve.
Board Training
There are many critical aspects of being an effective board member from governance policies and practices to creating a vision for the future of the organization. A high functioning board is critical to an effective organization. Yet, often board members are led by their passion for the non-profit or they were recruited by another board member. While these may be excellent reasons to join a board, at OrgBoosters we want to see non-profits thrive and this involves having a knowledgeable, prepared and high functioning boards who understand their roles and responsibilities and follow the applied governance policies. Having served as board members ourselves, we understand that
every board member is essential in conveying the message of the organization and the mission. This requires some key elements and effective training.
We can help your board by beginning with your governance policies and practices to be certain that the practical application of the governance model is being applied. We can customize governance policy trainings for new members and as refresher courses. Governance policies are the framework for the board and OrgBoosters can help lead your organization to effective governing.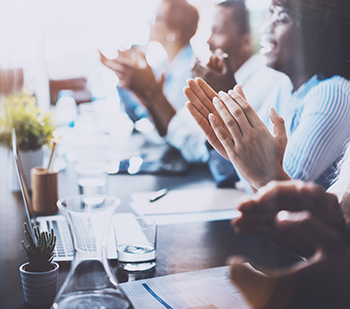 Another area of board training that we deliver includes recruitment planning and on-boarding for new members. Boards have to be certain that they recruit volunteers that will not only be highly functioning board members but who also are prepared and equipped to steer the organization. We can develop board applications and screening tools, develop the critical conflict of interest policies and board member job descriptions. All of these key tools will help the organization have a high performing board.
At Orgboosters, we can also create board training manuals, organization resources for board members, and all of the tools necessary for high performing boards. Other specific trainings we offer include board assessments to help the board examine its own performance, and a training plan to strengthen areas that need growth and development.
An additional training that we deliver addresses the fiduciary responsibilities of being a board member. We offer a series on financial management for board members and can also customize the training to familiarize board members with fiscal reports, financial projections, budgeting, and internal control policies.
All of these things are essential to having an effective and engaged board that helps to position the organization for a sustainable future. Progressive boards require engagement, training and an ongoing connection to the mission of the organization. OrgBoosters can help boards to advance to meet their duty of loyalty, care and obedience and help the organization to evolve to meet its mission.